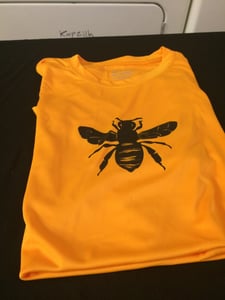 $

15.00
Have you ever been to the outdoors? Do you think you might go there again one day? You should consider...
A Brothers Vilgalys Bee Jersey!
Made of that magical wicking stuff that is nice and light, this is a stylish jersey perfect for the hot summers of North Carolina (and warm autumns, springs, and winters...)
The jerseys are unbranded except for our woodblock-style Bee logo. And they're well, made of comfortable stuff. So much you'll probably say something like "Hey, these are pretty comfortable shirts."
Sizes are unisex because all people are the same.