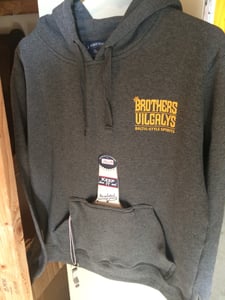 $

45.00
Okay guys. Time to pay attention. Here we have: An ordinary hoody.
But listen up. THIS IS NO ORDINARY HOODY.
Our hoody has three critical features you'll appreciate:
The first is our brand tastefully displayed in the front corner, and a simple bee design on the back. Yellow on gray. Looks good. Feels soft. Quality fabric.
BUT THEN:
The kangaroo-style pocket has a bonus pocket with a neoprene coozie built into the dang pocket.
Let us repeat that again:
This hoody has a built in drink holder.
We now suggest you go take a walk or something and just allow that to sink in. Whenever you're calm and ready you can continue.
Finally: There is also a bottle opener, looped into the pocket so you will never need be without one. The same elastic loop can easily be attached to keys, wallets, snacks, first born children, precious artefacts the bad guys are looking for, and other valuables you might want to keep around.